CLINICAL & SCIENTIFIC EVIDENCE
cera

bone® is one of the best documented bone grafting materials world-wide.
More than 200 studies prove the unique material characteristics
and the clinical efficacy of

cera

bone® in regenerative dental medicine.
cera

bone® is currently subject to more than 30 preclinical and clinical research projects at global academic institutions.
LONG-TERM SUCCESS
Dental implants placed in bone augmented with cerabone® or a combination of autograft and cerabone® have demonstrated cumulative survival rates of 98.73 – 100%  12 – 65.93 months on average post-surgery1-5.
98.73 – 100%
SURVIVAL RATES
Scanning electron microscope (SEM) pictures show the highly structured surface of cerabone® as well as the macro- and micropores.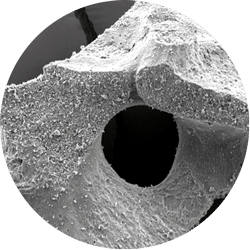 The macroporous structure enables migration of cells, penetration of blood vessels and integration of the particles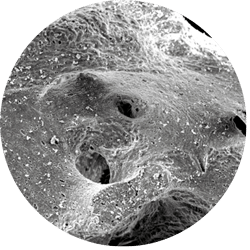 The capillary effect of the micropores leads to a quick blood uptake of the material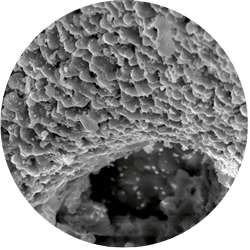 The rough surface ensures an excellent and homogenous surface adhesion of cells and proteins
Pore distribution of cerabone®6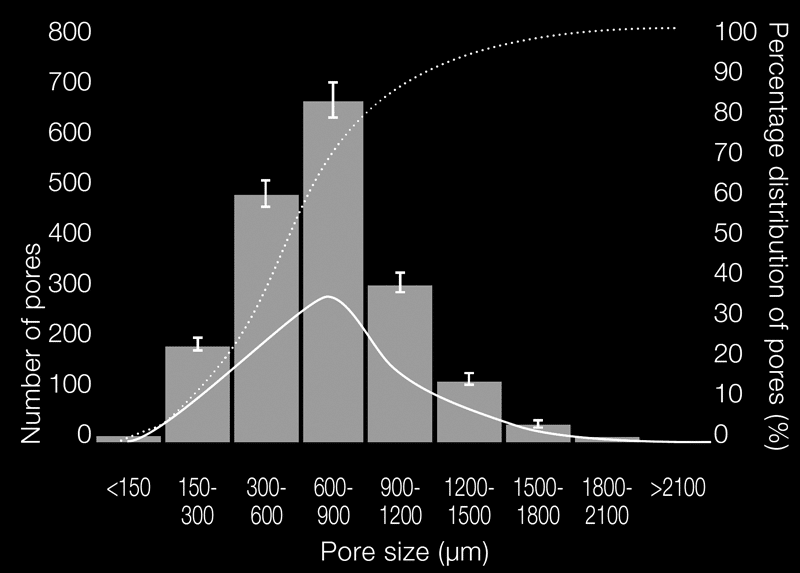 Growth of osteoblasts and osteoclasts on cerabone®
In vitro results from Prof. Dr. Dr. D. Rothamel, Clinic Mönchengladbach,
University of Düsseldorf and PD Dr. C. Reichert, University of Bonn
The rough surface also promotes the adhesion of serum proteins and cells onto the surface. Osteoblast-like cells quickly adhere to the cerabone® particles. Only attached osteoblasts can start to produce new bone matrix leading to the osseous integration of the cerabone® particles. Another study indicated that the good adherence of osteoclasts promotes the superficial remodeling of the particles.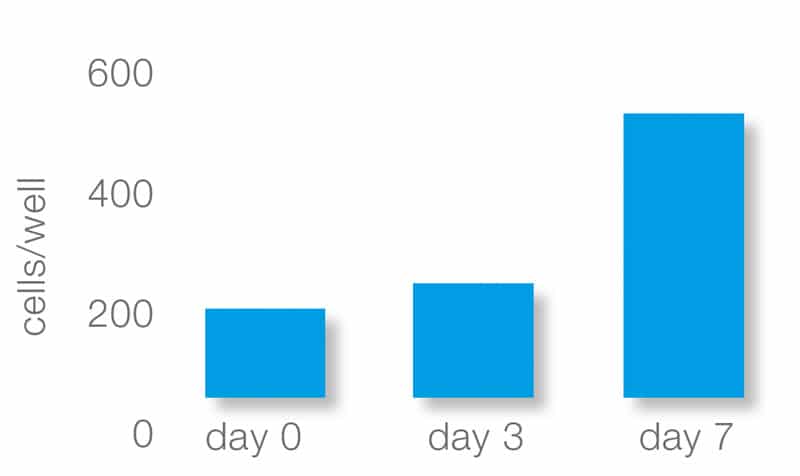 Proliferation of osteoblasts on cerabone®
Interaction of cerabone® with stem cells
In vitro results from Prof. Dr. B. Zavan, University of Padova
cerabone® supports the differentiation of attached stem cells into osteoblasts that produce new bone matrix. Collagen, osteopontin, osteonectin and osteocalcin are proteins of the extracellular bone matrix that can be used as markers for bone formation. Their detection 14 days after seeding stem cells on cerabone® indicates the correct differentiation of the cells.
Interaction of cerabone® with human dental pulp stem cells


In vitro

data from Khojasteh et al.7
cerabone®; among other tested bone grafting materials; supports the adhesion, proliferation and differentiation of human dental pulp stem cells (hDPSCs) seeded on the particles. Scanning electron micrographs (SEM) showed that hDPSCs demonstrated the fibroblastic phenotype with several cytoplasmic extensions 14 days after incubation on the cerabone® particles.
REFERENCES
1 Tawil G, Tawil P, Khairallah A. Sinus Floor Elevation Using the Lateral Approach and Bone Window RepositioningI: Clinical and Radiographic Results in 102 Consecutively Treated Patients Followed from 1 to 5 Years. Int J Oral Maxillofac Implants. 2016 Jul-Aug;31(4):827-34.
2 Cardaropoli D, Tamagnone L, Roffredo A, De Maria A, Gaveglio L. Preservation of Peri-implant Soft Tissues Following Immediate Postextraction Implant Placement. Part II: Clinical Evaluation. Int J Periodontics Restorative Dent. 2019 Nov/Dec;39(6):789-797.
3 Kamadjaja DB, Sumarta NPM, Rizqiawan A. Stability of Tissue Augmented with Deproteinized Bovine Bone Mineral Particles Associated with Implant Placement in Anterior Maxilla. Case Rep Dent. 2019 Oct 27;2019:5431752.
4 Lorean A, Mazor Z, Barbu H, Mijiritsky E, Levin L. Nasal floor elevation combined with dental implant placement: a long-term report of up to 86 months. Int J Oral Maxillofac Implants. 2014 May-Jun;29(3):705-8.
5 Khojasteh A, Hassani A, Motamedian SR, Saadat S, Alikhasi M. Cortical Bone Augmentation Versus Nerve Lateralization for Treatment of Atrophic Posterior Mandible: A Retrospective Study and Review of Literature. Clin Implant Dent Relat Res. 2016 Apr;18(2):342-59.
6 Seidel P, Dingeldein E. cerabone® – Bovine Based Spongiosa Ceramic Seidel et al. Mat.-wiss. u. Werkstofftech. 2004
7 Khojasteh A, Motamedian SR, Rad MR, Shahriari MH, Nadjmi N. Polymeric vs hydroxyapatite-based scaffolds on dental pulp stem cell proliferation and differentiation. World J Stem Cells. 2015 Nov 26; 7(10): 1215–1221.